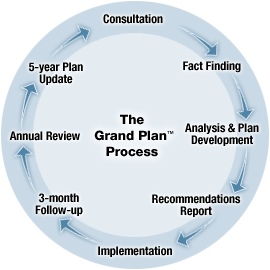 Mission Statement
"By listening to our clients and understanding their unique financial needs, we develop and implement personal financial plans that enable the achievement of their goals through the growth and preservation of their wealth."

Working Together
Financial planning is a lifelong process. At Grand Financial Planning we can work with you to create a comprehensive plan that addresses your long-term goals, while ever mindful of your short-term needs.
We can help you achieve a more peaceful and secure future by:
Understanding your immediate and long-range financial needs

Providing individually customized, well-researched advice

Offering a broad range of superior products and services.
If your needs include comprehensive financial planning, retirement planning, investment management or estate and multi-generational planning, we have the resources to assist you.
We look forward to working with you to find those paths to success. Our goal is to help you achieve your goals. As independent financial planners, we shop the market to ensure you receive the product best suited to your needs.
The Grand Planning Process includes the following modules:
Net Worth Analysis
Cash Flow Analysis
Disability Needs Analysis
Education Planning
Retirement Planning
Tax Planning
Estate Planning
Business Succession Planning

We can implement your Grand Plan with a wide range of products including:
Investments

RRSPs/RRIFs/LIRAs/LIFs/LRIFs/RESPs
Mutual Funds
Linked Notes
GIC's
High Yield Savings Accounts

Insurance

Life Insurance
Disability Insurance
Critical Illness Insurance
Long Term Care Insurance
Travel Insurance
Segregated Funds
Annuities