Grand Financial Planning was founded in June 2005 by Joy O'Donnell with a vision to develop a firm of client-focused advisors who provide comprehensive financial planning services to all levels of clientele.
Joy O'Donnell, BA, CFP
Joy O'Donnell is dedicated to helping people create and preserve wealth. The key to her success is the personalized approach she takes to assisting clients with a full range of services including comprehensive financial planning, retirement planning, investment management, planned giving, estate and multi-generational planning. Her clients include professionals, high-net-worth individuals, small business owners and retirees.
Joy is well qualified to counsel her clients and has been helping them make the right decisions about their future since 1995. A graduate of the University of Guelph with a double major in Management and Economics, Joy also received her CFP designation in 2002. As a result of the outstanding advice and service she provides, Joy has built a loyal following of satisfied clients. Her practice continues to flourish thanks to clients recommending her to friends, family members and business associates.
In her time away from work, Joy serves her community through the Rotary Club of Cambridge North, where she is a Past President and has received multiple awards, including a Paul Harris Fellowship, Rotarian of the Year and the Outstanding Service and Dedication Award. Joy has recently joined the Board of the Grand River Conservation Foundation where she can focus her passion for environmental issues in the preservation of the mighty Grand River. Joy also holds an executive position on the local Board of Advocis and is an active member of both the Brant-Brantford and the Cambridge Chambers of Commerce.
Joy and Joe, whom she married in 1994, have two sons, Quinn and Connor. The family resides in Brantford and enjoys sailing, swimming and mountain biking. Joy has a passion for both local and national current affairs. The whole family has volunteered as a host family through the YMCA Immigrant Settlement Services to assist new Canadians in getting settled into their new country and helping them to understand Canadian culture.
When you make financial decisions, you want expert guidance. Whether you need a comprehensive financial plan or guidance in one key area – such as retirement, estate planning, or investing – Joy can help.
Eric Attlebery, HBA, MBA
Eric joined Grand Financial Planning in July 2006 as the Business Manager. He brings with him extensive financial planning industry experience, including 6 years of working with clients in the Brantford and Cambridge area. More recently he worked at the head office of a large Canadian wealth management company.
Eric is a current member of the FundEX Administrators' Committee. Comprised of selected members from across Canada, this advisory board represents the views and interests of FundEX offices with a mandate to make recommendations aimed at improving the overall efficiency of the operational policies and procedures of the company at a local and national level.
Continual self-improvement and education have always been important to Eric. He graduated with an Honours degree in Business from the Ivey Business School, University of Western Ontario in 1994. In 2002 Eric ventured to Australia where he continued his studies and graduated in 2003 with a MBA from the prestigious Melbourne Business School, University of Melbourne.
Eric grew up in Paris and is happy to be living in Brantford as he continues his career in wealth management. In his spare time, he enjoys traveling, reading, and sports.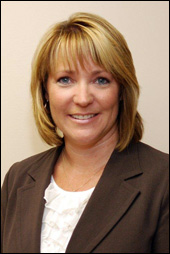 Margaret Phillips, CFP
For Margaret Phillips, providing the most comprehensive and relevant financial planning advice possible is her most important priority. Her dedication to exceptional client service is clear from the first meeting. Marg goes to great lengths to understand both the big picture and the smallest details of each client's situation to assist with financial planning, tax planning and preparation, budgeting, estate planning and wealth accumulation.
A graduate of both Georgian College and Mohawk College, Marg has been guiding clients through their financial decisions since 2001. She holds a Certificate in Financial Planning and achieved her Certified Financial Planner (CFP) designation in 2008. Marg was born and raised in Brantford and has enjoyed the confidence and respect of a wide range of friends and acquaintances with whom she has built a trusting relationship over the years. As a result, Marg has seen her business grow primarily through referrals from satisfied clients.
When she is not actively working for her clients or studying to enhance her professional knowledge, Marg can be found spending leisure time with her husband Greg, whom she married in 1989, and their children Megan and Joel. She also likes to set aside time for swimming, travelling and reading.
Rick Smelser
Rick joined the Grand Financial Planning Team in July 2008 after a lengthy search for a like-minded client-focused firm. He has advised individuals and families since 1980. Clients continue to value his wealth of knowledge gained through his extensive experience and appreciate his down-to-earth approach and personal service.
A life-long area resident of Brantford, Rick has been married to Candy since 1985. He has three grown children and one granddaughter.
He has a well-established association with the Brantford Jaycees and is a member of the Board for Jaycee Homes Corporation. Rick received a Business Administration diploma from Mohawk College.